DJs for Weddings and Very Special Events - Affordable and Experienced
---
Thank You For Taking a Moment to Learn More About
Joe Jazz Entertainment and Boston Wedding DJs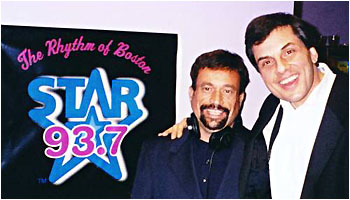 Vinnie Peruzzi and Joe Jazz at Vincent's
Joe Jazz Mobile DJ Entertainment
Disc Jockeys for Nightclubs, Weddings, Proms & Very Special Events
978.815.3291
---
Massachusetts most experienced and successful Disc Jockey Service. Since 1978, we've done hundreds of receptions, dances and parties. Every week we receive thank you letters from clients telling us how pleased they were.
A DJ will set the right mood for your special event, so you and your guests can sit back and enjoy the festivities. Whether you need classical music for your outdoor wedding, oldies music for your office party, or techno and hip hop for your high school prom, our DJs can add the right touch and make your wedding or very special event exciting, fun, and memorable.
Why is Joe Jazz Entertainment So Popular?

Perhaps this comparison will explain why we keep on growing every year while so many competing companies have gone out of business.
Joe Jazz Entertainment DJ's are highly experienced.

We've earned the reputation as one of the best private party disc jockey services in the area. Our high standards guarantee us a steady stream of referrals and new customers.

Joe Jazz Entertainment delivers what we promise.

When you contract us to play a certain song, handle a particular announcement a certain way, or bring certain equipment, you can rest assured that is exactly what will happen.

Joe Jazz Entertainment doesn't display any advertising.

We don't use your party to promote our business.
Because we do a good job, you'll probably tell your guests who we are.
We don't want to spoil the beauty of the location by hanging tacky signs.

Joe Jazz Entertainment gives you music flexibility.

With our ever-expanding library of over 75,000 songs on CD, we can mix the music to the taste of any crowd. You are more than welcome to make requests.
We will listen very closely to your musical requests and make sure we have the proper music for your wedding or event.

Joe Jazz Entertainment uses high-quality professional equipment.

Top of the line models from name brands such as Denon, Crown, Crest, JBL and Yamaha cost us more, but the difference in fidelity is worth it. Our music is on CD for crystal clear sound.

Joe Jazz Entertainment DJ's dress for the occasion.

Our DJs are dressed in tuxedos. We understand how important good taste is for a formal function such as a wedding or for any special occasion. If you prefer, for more casual functions, our djs dress neatly in a suit or however you like.

Joe Jazz Entertainment DJ's backup is like DJ insurance.

We have an impressive track record of being at the right place at the right time. Even though our deejays are extremely responsible, being human, sooner or later one of them could call in sick or have a family emergency. Our entertainment network of DJ professionals can provide our customers with a replacement DJ on very short notice. The staff in our office are DJs and are available via cell phone, NEXTEL, or beeper.

Joe Jazz Entertainment specializes in one thing.

Disc jockeys for weddings and very special events.
We are not "Side Show" or "Circus Type" DJs.
The focus should be on you and your guests.
Ask us about our light shows and effects packages.
Joe Jazz Entertainment cares about the success of your party as much as you do.

We stand behind every party we do. Our staff will take of the details so you, your families and guests can relax and have a good time.
Your wedding day will be worry free and a memorable success.

So for the combination of experience, quality and outstanding value...please choose Joe Jazz Entertainment.

Need Something Different In DJ Entertainment?

NightclubDJs.com may be what your looking for.

You have hired an orchestra or band for your event.
Use a nightclub DJ to energize your party in a new direction.

Nightclub DJs play the club music you want to hear that a band could never duplicate. A nightclub DJ arrives with the newest and hottest music and dance classics. Club qualified jocks will make that nightclub atmosphere a reality at your wedding, high school prom, college/university dance, holiday party, or special event.
We Have Special Lighting Effects and Large Venue Sounds Systems.
978.815.3291
---
[ return to: Joe Jazz Entertainment ]
[ e-mail: Joe Jazz Entertainment ] [ e-mail: Nightclub DJs ]
[ Boston Wedding DJs ] [ hire club djs ]
---
©2007 Joe Jazz Entertainment and NightClubDJs.com
DJ Placement and Music Concepts for Nightclubs, Hotels, Bars, High School Dances, Proms, and Pubs. Massachusetts, Boston and Southern New Hampshire
hosting - design - promotion: Boston Web Hosts